When embarking on the journey of producing an oracle card deck, most creators think of the design first. After all, the artwork on the cards is an essential core element of most decks. Many readers feel drawn to their favourite oracles because of a unique style of art they resonate with. Preparing the images for the cards is often the most time-consuming part of designing an oracle deck, too.
However, amidst the countless hours of planning and hands-on work that can go into the design process, many creators tend to forget another important piece: the content!
I still remember when I created my first oracle deck 10 years ago. While the messages on the cards were a vital part of this deck and I had spent many months channeling them one by one, I was nowhere near done by the time I thought I was ready to get my deck printed. Not only did I still have to design the box and instructions leaflet—I hadn't even started writing the content. It took me another several days to get all those pieces together so I could finally order my first proof copies.
I often saw this when I first began designing oracle decks for my clients, too. While my clients thought they had prepared everything I would need to format their deck for the printer, we'd still spend quite a bit of time completing the missing content pieces such as the author bio or blurb for the back of the box. This was no big deal because polishing the content was an agreed-upon part of our work together. However, nowadays, I make sure all my clients get a complete set of content templates ahead of time so I know everything is ready when we need it and my team won't be stuck waiting for missing elements when it's time for the next step in the design process.
Last but not least, if you're serious about producing a deck that represents your business and message in a professional way, it goes without saying that both your visuals and content should have a professional appearance. I don't know about you, but for me, there's nothing worse than holding a beautiful, intricately crafted oracle deck in my hands to then spot a bunch of typos on the cards or cringe at the poorly edited guidebook.
If you've decided to start your journey of creating your own oracle card deck and are ready make your vision a reality, this article breaks down the most important things to consider when preparing your content. Here are our 5 essential tips to help you make your content creation process as smooth, efficient, and enjoyable as possible!
Oracle Deck Content Creation Tip #1:
Choose a clear theme and message.
You may have a general idea about a topic for your deck, but we encourage you to hone in on a concise theme that clearly conveys what your deck is about. To do this, dive deeper into your beliefs, values, passions, as well as your business goals. Ask yourself, "What do I want people to feel and experience when using my deck? How does my deck connect to my business mission, and what are the goals I want to reach by publishing my cards?"
You can then narrow down these reflections into a clear message and theme so that your deck can have its own unique, magnetic pull that reaches the right audience. This will also allow for consistency throughout your deck, helping readers develop a sense of trust in its guidance and insights.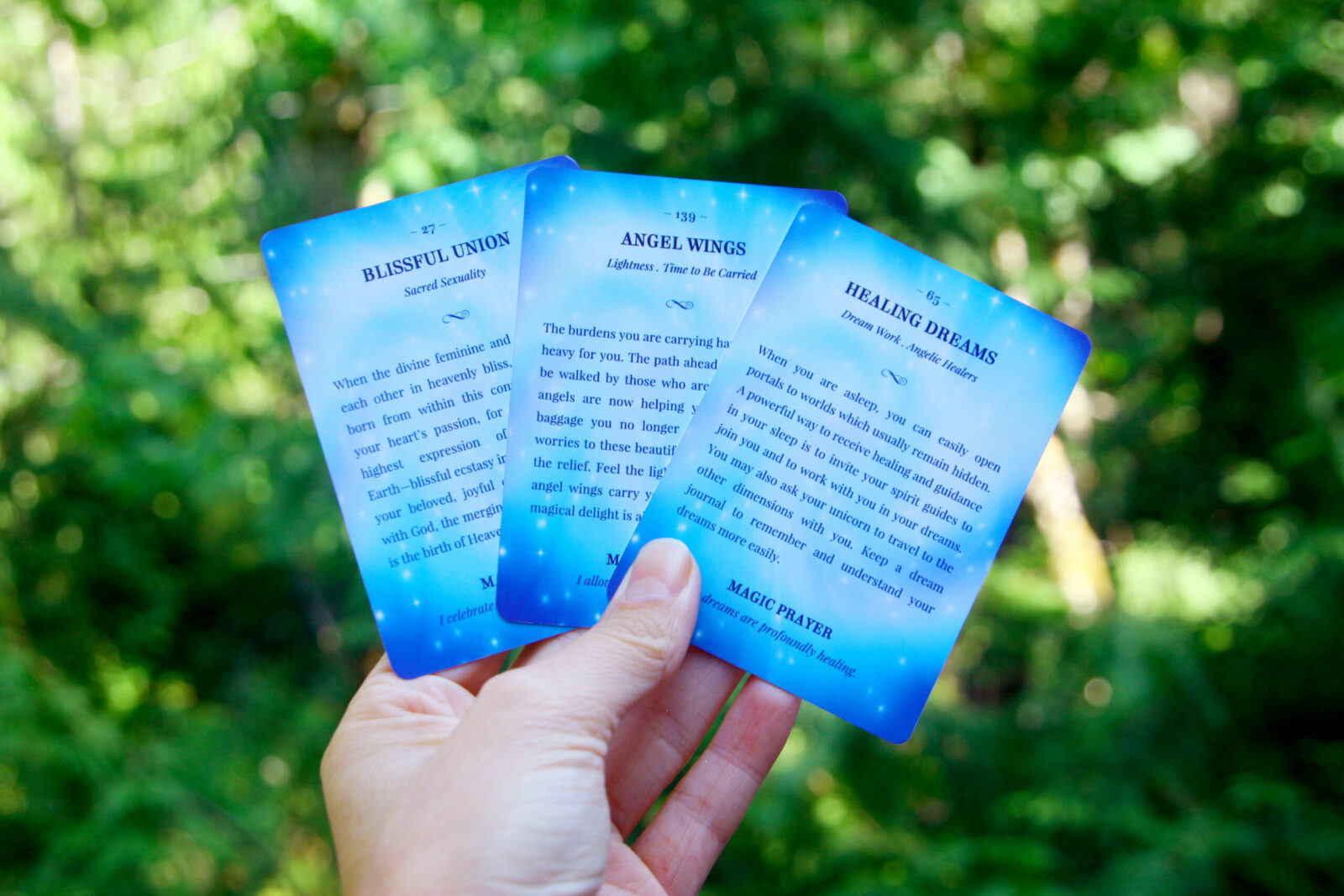 Oracle Deck Content Creation Tip #2:
Look to other decks for inspiration. (But make it your own!)
If you're not sure what to include when you prepare your content files for your designer, it can be helpful to seek inspiration from other decks you resonate with. The vast landscape of existing decks can provide ideas for how to write a user-friendly guidebook and spark inspiration for unique elements that will set your deck apart.
Pay attention to the structure and organization of the guidebooks in your collection, and ask yourself, "What elements do I find most valuable and informative? What do all professionally published guidebooks have in common? What are some pieces I could include that I wouldn't have thought about?" Reflect on these insights and consider how you can fit them into the essence of your own vision for your deck.
Oracle Deck Content Creation Tip #3:
Consider all parts of your deck.
To create a comprehensive and cohesive experience, you should consider the content for every part of your deck, including your cards, the inside of the guidebook (if you choose to include one), the book cover, as well as the front, sides, and back of the box.
Creating content for all elements of your deck in advance ensures your designer and other team members have everything they need to bring your vision to life. This proactive approach prevents delays and allows for a smooth collaboration between you and your creative support team.
Because we know how important this is, we've included all the content templates you'll need for your cards, packaging, and guidebook in our course.
Oracle Deck Content Creation Tip #4:
Keep it short and simple.
This is important for two reasons:
Firstly, most oracle guidebooks are significantly smaller than traditional books. They're designed to deliver all the information your readers will need in a compact format while easily fitting inside a box the same size as the cards. While there is no strict limit to how many pages your guidebook can include, making your book too thick can make it more difficult to flip through the pages. Keeping your content short ensures that it fits into a small format without making your book too long.
Secondly, although including a well written guidebook adds value to your product, it's important to keep in mind that most oracle users purchase their decks primarily to work with the cards, and not because they want to read a lengthy instruction manual. Many readers don't even use their guidebooks at all—and if, they tend to scan the content quickly. Delivering your guidebook content in a concise format keeps it easy to digest and allows your audience to receive the essential information without getting bored or feeling overwhelmed by too much text.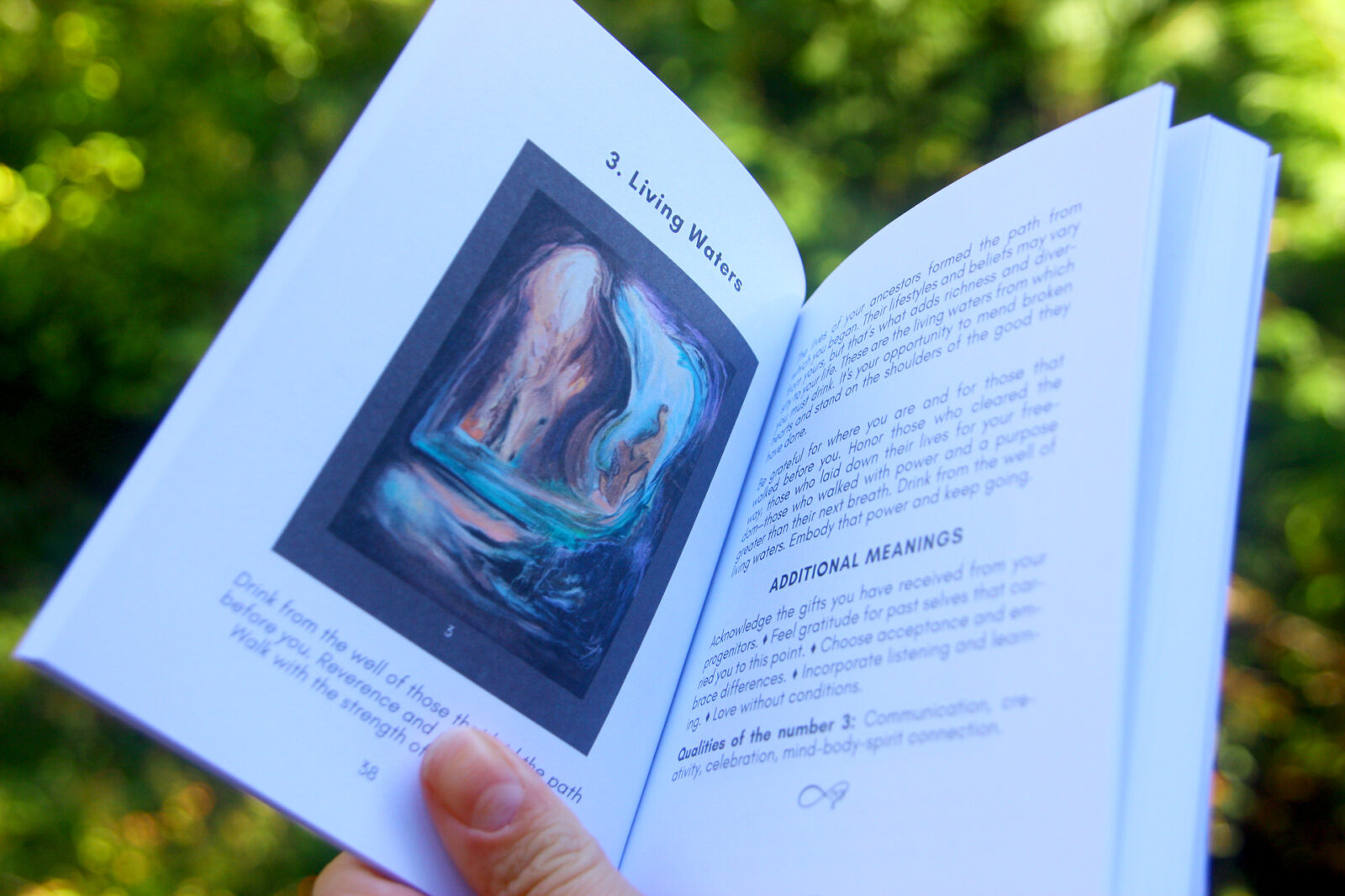 Oracle Deck Content Creation Tip #5:
Hire a professional editor and/or proofreader.
To ensure that your deck showcases your work in a professional way, enlisting the services of a qualified editor and/or proofreader can be an invaluable investment. A deck adorned with stunning visuals can lose its luster if accompanied by typos, grammatical errors, inconsistent logic, or bad style. This is especially true if you aspire to expand your deck's reach to a worldwide market. (The indie market can be a bit more forgiving.)
If you desire to work with distributors to get your deck into bookstores, or if you plan on selling your cards on Amazon, we highly recommend having a second (or third) pair of eyes check your writing and make sure your content meets professional publishing standards.
As you can see, creating compelling content for an oracle deck involves many considerations, but having the right guidance, support, and resources can make the entire process much easier, faster, and less stressful for you. Giving your content the attention it deserves is a worthwhile investment that ensures your deck makes a lasting impact and reaches an audience of enthusiastic customers who will love working with (and recommending) your cards for many years to come!
Want More Support to Make Your Dream of Your Oracle Card Deck a Reality?
Check out our step-by-step self-study course, or learn more about our done-for-you publishing services!