If you're about to create your first oracle card deck, you may be wondering what design software to use to bring your vision to life.
For many who are just getting started on this journey, Canva may seem like the most obvious option since it is a user-friendly tool created to help even inexperienced designers craft beautiful, high-quality designs with ease. Many business owners like to use Canva to design their social media posts, downloadable e-books, and more.
Alternatively, Adobe Photoshop and similar graphic design tools are the most popular choice among professionals as they offer many additional features not available in Canva.
However, is it really worth putting in the extra time and effort to familiarize yourself with a more complex software such as Photoshop? Is Canva going to be enough to create a professional quality oracle deck including your artwork and the layouts for your cards, box, and guidebook? What exactly will your printer need from you to ensure your finished deck will look just the way you've envisioned it?
In this article, we'll highlight the most important things to keep in mind when choosing your design software so you can confidently make the right decision for your deck and create a beautiful, high-quality product your customers (and wholesale partners) can't wait to buy from you.
Designing Your Oracle Deck in Canva
As we already mentioned, Canva is a popular choice among non-professionals who are new to design software.
It's easy to learn and use, making it accessible to those who may not have much experience with graphic design. It has all of the features necessary to create basic layouts for your cards and other components of your deck.
If you opt for Canva's Pro version, you'll gain access to a vast library of design elements, including stock photos, illustrations, and fonts that you can freely use for commercial purposes. Canva Pro also offers one-click background removal, which comes in handy for collage art decks.
If you're into AI art, Canva even includes an AI art app that allows you to quickly create the artwork for your deck directly on the platform. (Although there are more advanced tools you can use if you're looking for the best possible quality—check out our AI Art Crash Course to learn how to create beautiful, professional quality fantasy art using our top two favourites.)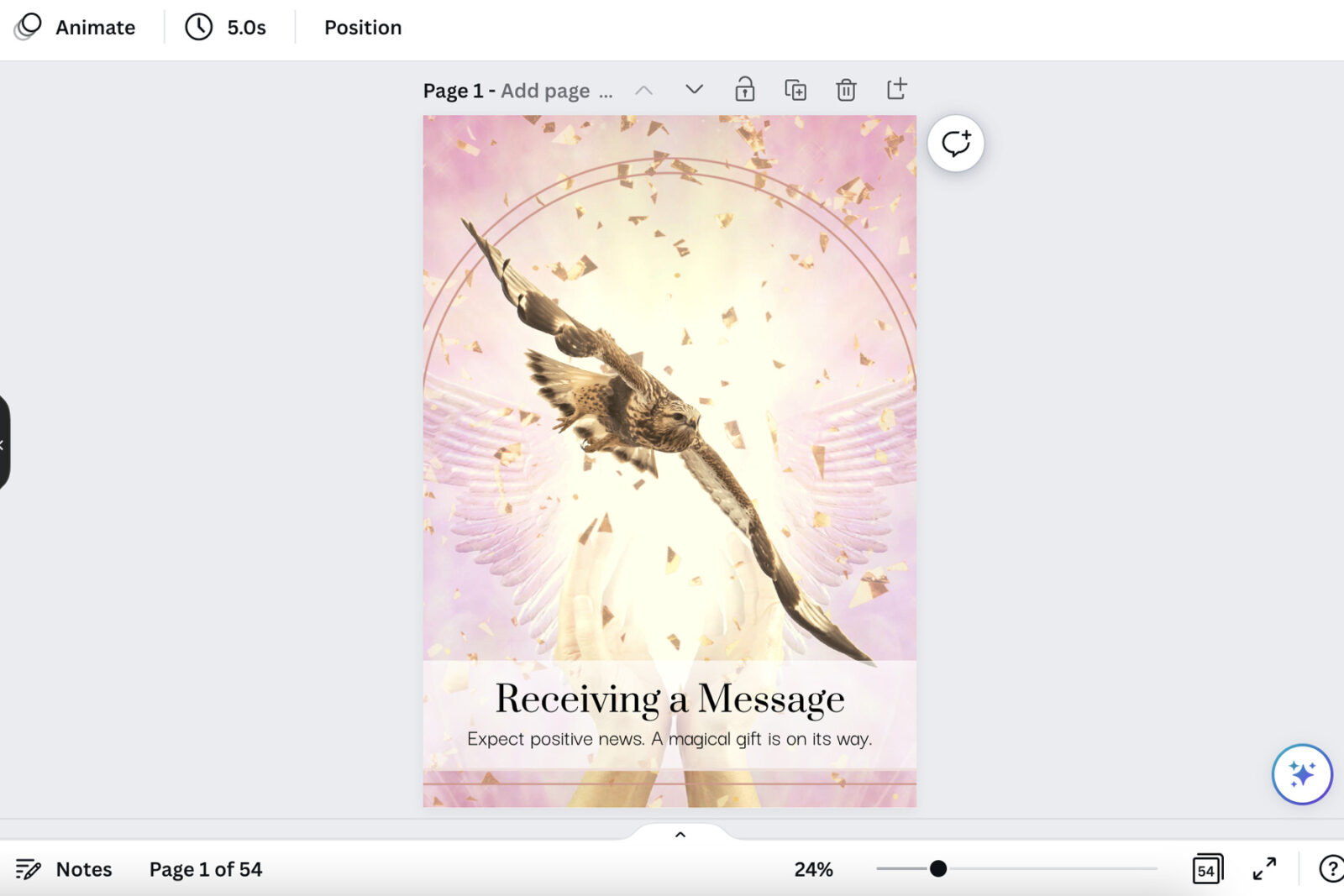 Overall, Canva is a great option for basic designs, but it does come with some limitations.
It's not ideal for more complex projects as this program was created specifically for simple designs such as social media graphics. Canva doesn't include a layer panel, which can make it difficult to work with designs that contain many different elements.
Additionally, Canva wasn't originally designed for print projects, therefore it may not offer all the features you'll need to properly prepare your files for your printer. For example, there are no specific colour settings for print, and you won't find any custom settings to adjust your bleed and margins. These are issues that can often be fixed with simple workarounds, but many designers who have never created a print product before aren't aware of this until after their files have been rejected by their printer.
Unfortunately, it's been our experience that the vast majority of designs created in Canva (especially without proper instructions) are incorrectly formatted when we first receive them. Sometimes, we've had to recreate entire layouts from scratch, which can be tedious and time-consuming. (Although always worth it in the end!)
Designing Your Oracle Deck in Photoshop
If you're looking for more advanced design capabilities, Adobe Photoshop or a similar design software may be the better choice for your oracle card deck.
Here are some important reasons why familiarizing yourself with a more advanced design tool (or hiring a professional to design and format your deck for you) is worth considering:
In comparison to Canva, Photoshop has better layering tools which allow you to easily organize and access different parts of your design even if it contains many different elements. Additionally, Photoshop is equipped with all the functionalities you'll need to properly format your designs for the printer right from the start, unlike Canva, which lacks the option to adjust your colour settings or customize your margins and bleed.
If you're creating your own art, Photoshop is much more flexible. For example, it allows you to use brushes, blur effects, layer masks, and other tools you that make it possible for you to design highly detailed collages and photo manipulation art with maximum precision.
Photoshop is also the best choice if you'd like to apply more complex 3D effects to your fonts and other design elements, such as gold overlays, gradients, or embossing, which isn't currently possible in Canva.
Finally, if you plan on printing any metallic foil overlays on your cards or packaging, you'll need to use a software that allows you to create vector-based designs. (Which you can do in Photoshop, but a vector-based software such as Adobe Illustrator would be most suitable for this.)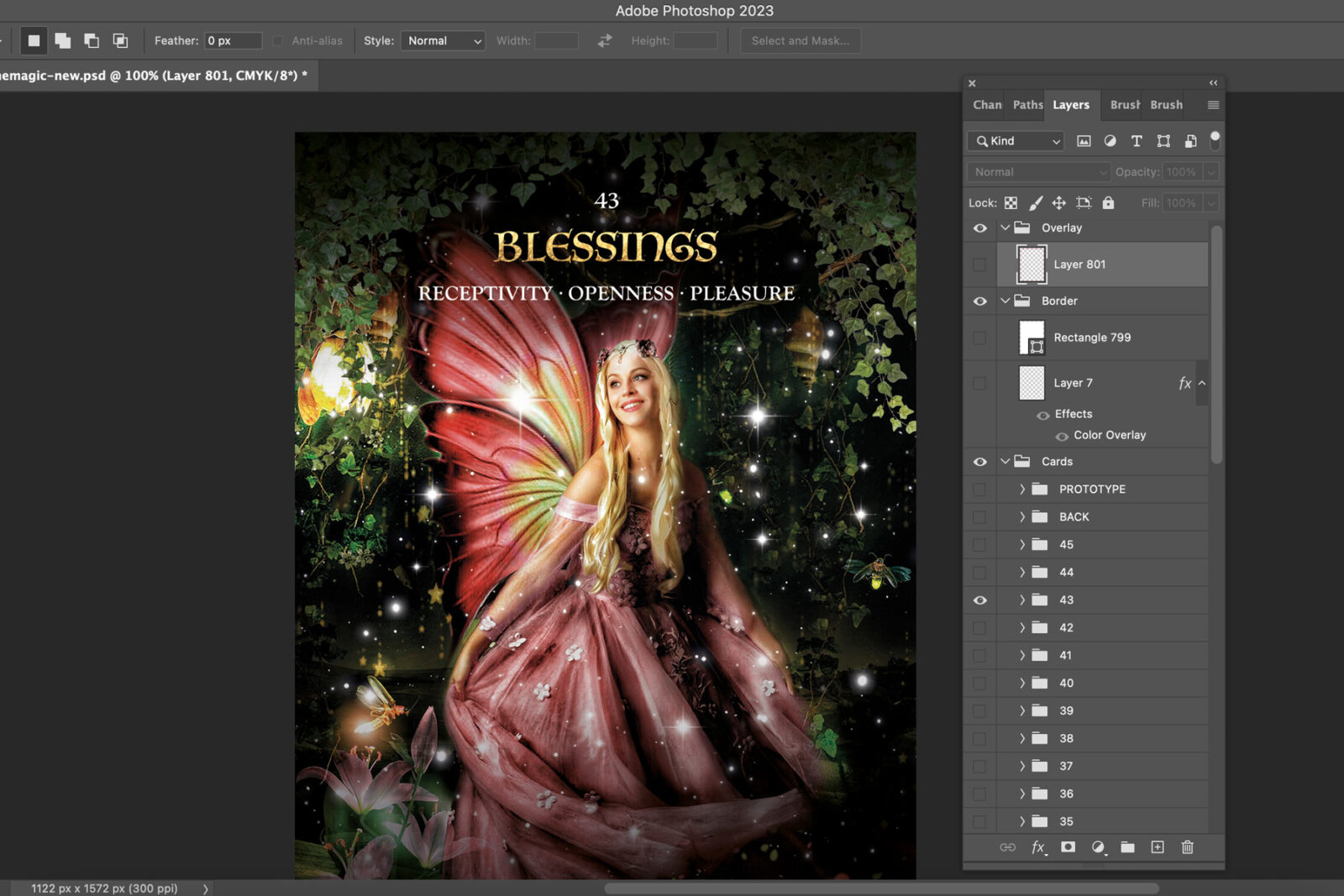 Other Design Software
Finally, it's worth noting that there are other platforms available for you to design your oracle card deck, such as Adobe InDesign or Affinity Publisher.
Both of these are professional page layout programs ideal for print projects. They don't contain the full range of features you'll find in Photoshop and aren't made for tasks like drawing, image editing, or creating artwork. However, these tools may be worth exploring if you're used to working in Canva and looking for a more advanced alternative that includes all the functionalities you'll need to properly prepare your designs for your printer.
In our course, we explain how to design and format your cards using Canva, Photoshop, and Affinity Publisher—so you can choose the option that works best for you and your project!
Want More Support to Make Your Dream of Your Oracle Card Deck a Reality?
Check out our step-by-step self-study course, or learn more about our done-for-you publishing services!