If you're a passionate oracle deck creator like many who find their way to Wonderland Publishing, you may have thought about publishing your cards not just physically, but as a digital deck or mobile app.
Publishing a digital deck can be a smart way to create a new income stream using a product you've already launched into the world—while providing you with an additional platform to promote your physical deck.
Harnessing the power of the online space can be an amazing opportunity to reach a wider market with your work. There's a virtual audience out there who loves to have easy access to media products like books or music on their phone through apps like Kindle or Spotify. The same is true for oracle decks.
Finally, you may want to consider creating a digital-only deck if you're just getting started on your journey and don't want to invest thousands of Dollars in a large print run right away. Publishing your cards digitally first can be a great way to test your product and start building your brand and audience so it'll be easier for you to launch your physical deck later on.
If you're wondering how to go about turning your oracle cards into a digital product, this article is for you! Keep reading to learn about three ways you can bring your own digital oracle card deck to life.
Creating Your Digital Card Deck: 3 Options to Consider
If you're like most authors and designers, you likely feel very much at home in your creative zone. However, when it comes to figuring out how to turn your cards into a digital deck or mobile app, you may be feeling rather overwhelmed.
Luckily, you don't have to learn how to program an entire app from scratch in order to create a beautiful, fully functional digital deck. With the right tools and support, making your own own digital deck can be a fun and easy process that doesn't require much time, skill, or a huge investment.
Depending on your unique goals, experience, and budget, here are three options to consider:
1. Hire a professional app developer.
First, you may want to consider hiring an experienced app developer or agency to help you make your vision of your digital oracle deck a reality.
The traditional way of developing a mobile app from the ground up is not a small task. Creating a fully customized digital deck requires time, effort, and patience—and it will typically involve a significant monetary investment, too.
However, designing a mobile app from scratch is the most flexible option if you want to have a maximum amount of control over what you're creating. Therefore, this may be a possibility worth exploring if you have a very unique idea you'd like to bring to life, along with a clear strategy for turning your app into a sustainable income stream for your business.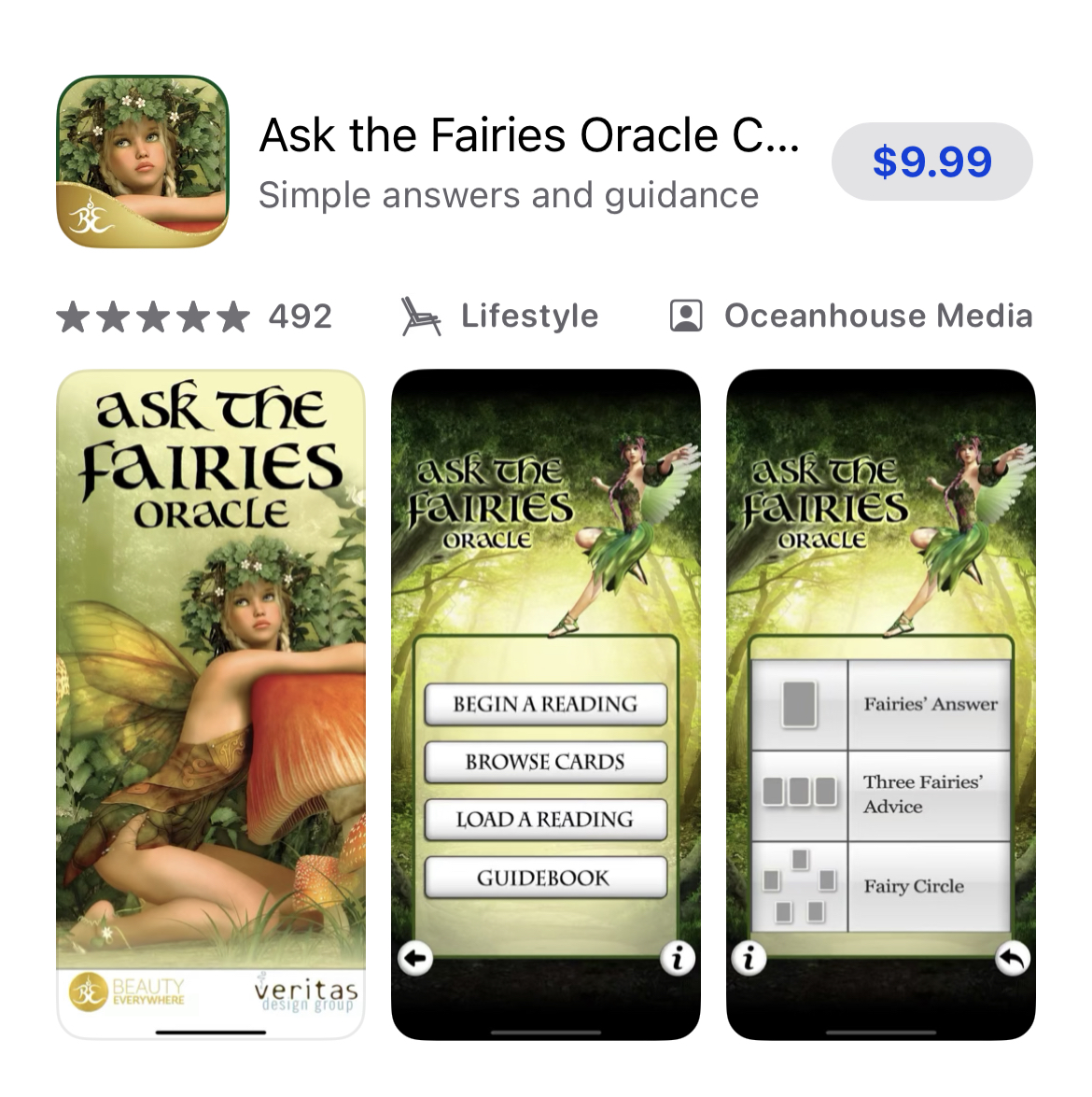 2. Install a pick-a-card plugin on your website.
Next, you can install a simple plugin or PHP script on your website that allows your audience to draw a card with the click of a button.
This is a great way to get your website visitors to experience a part of your oracle deck before they buy the complete deck. While you could consider selling a web version of your card deck as a digital product, it's often best to offer this format as a free preview to promote your physical deck.
Depending on your unique goals, you could make your digital deck available on a public page to generate recurring traffic. However, most of the time, I recommend hiding your deck behind an opt-in, which means that anyone who wants to use your deck must enter their email address first. This can be a great opportunity to build a highly targeted email list you can then promote your physical deck to—as well as other similar products.
3. Publish + sell your digital card deck on Deckible.
With Deckible, you get to experience the best of both worlds!
Think of Deckible as the Audible app but for oracle and tarot card decks. You upload your deck to their platform, and it becomes available for purchase by app users via the digital deck marketplace.
There are many genres of decks that are available in the marketplace, which can help you get discovered by individuals looking to explore other genres.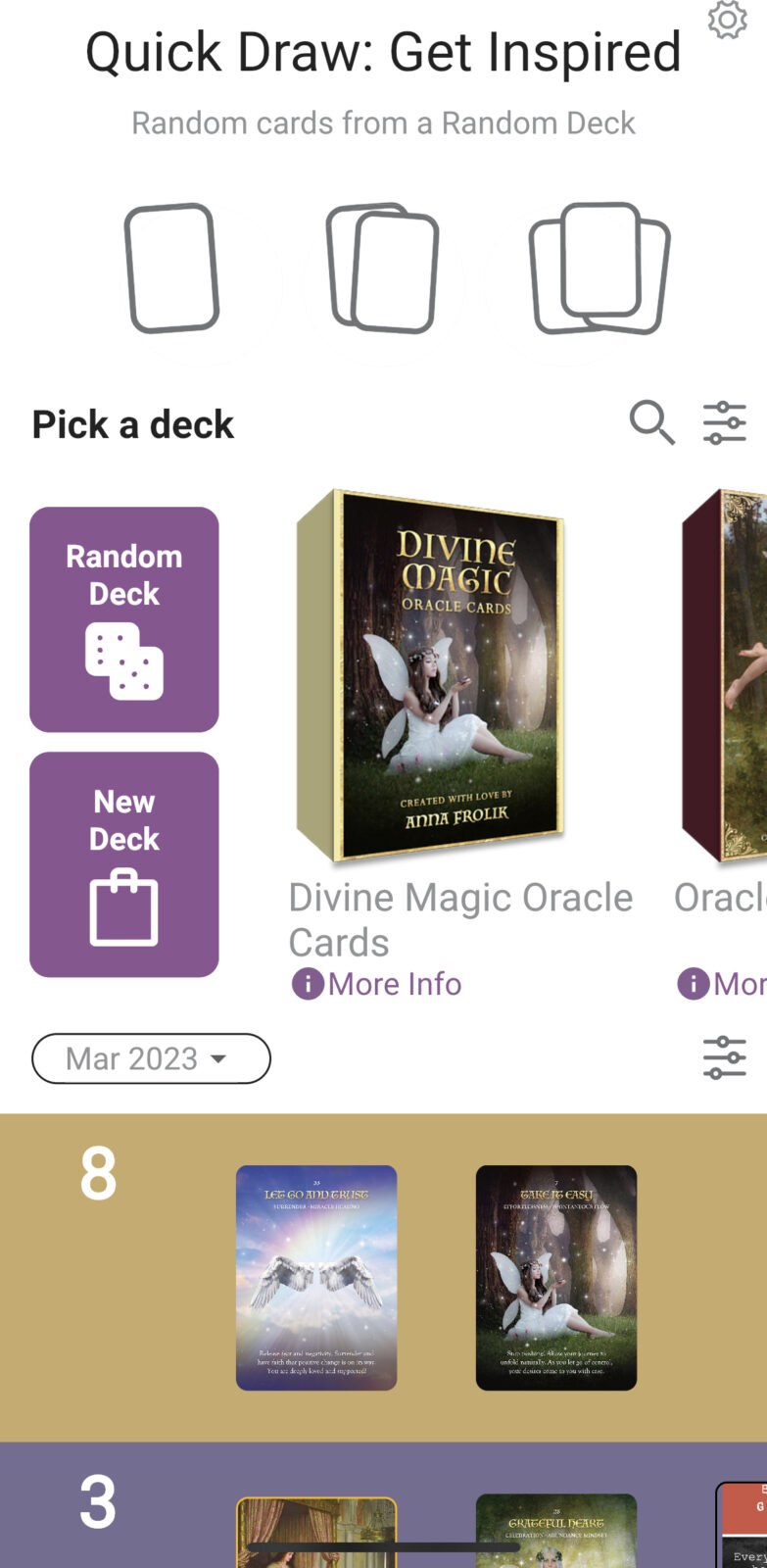 From a consumer standpoint, Deckible does a great job of making your deck feel tangible. It animates your decks with tactile capabilities such as pinching, zooming, shuffling, and stacking. This app allows you to use the cards just as you would if they were on a table in front of you.
Some other one-of-a-kind features include:
Quick draw: Choose 1-3 cards with the push of a button.
Custom spreads: Pick cards from various decks to make a spread that best helps to answer your question.
Mix and match: Experience multiple decks at once by compiling cards in one central place.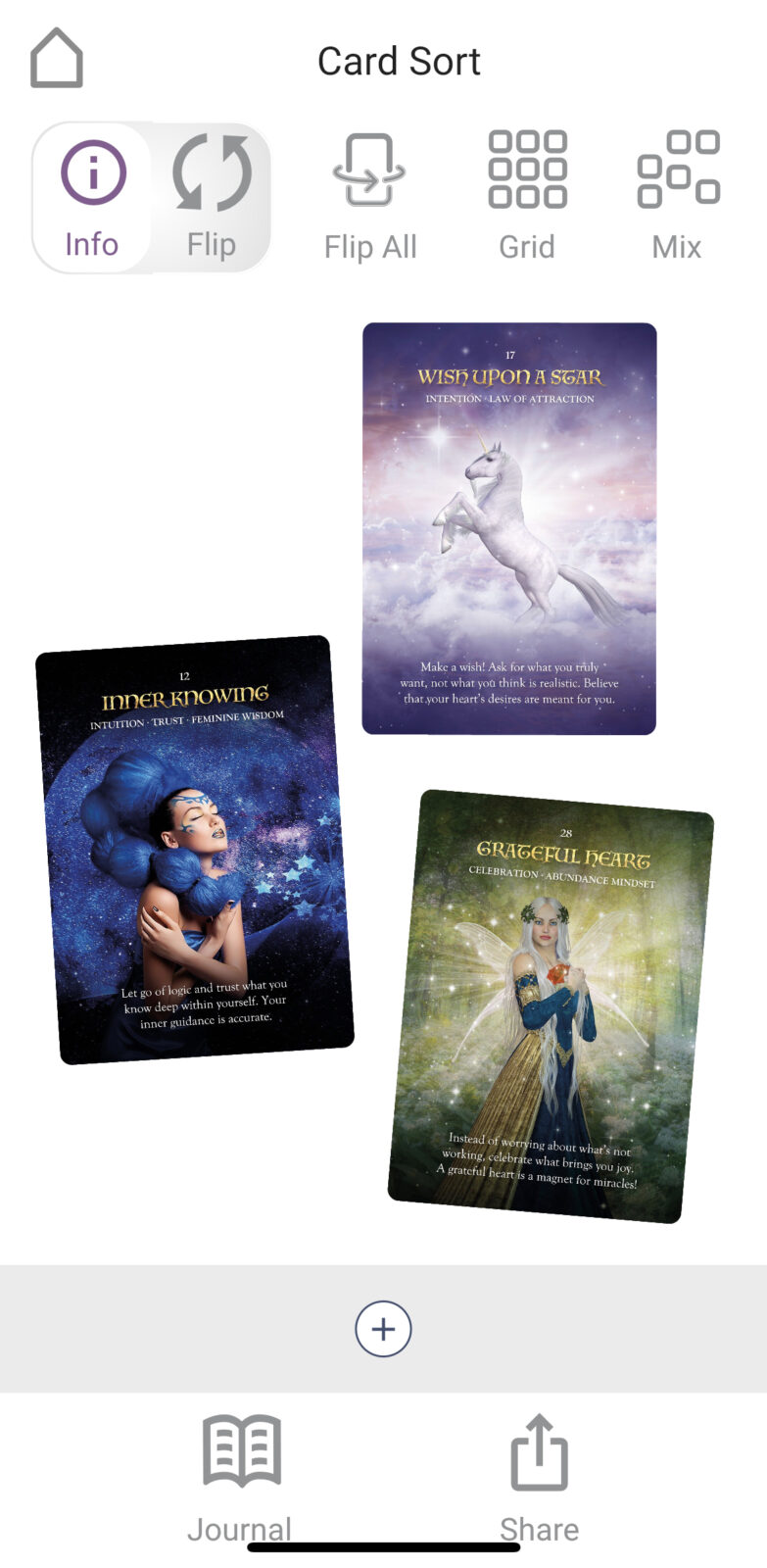 The guidebook for each deck is accessible with the press of a button, so you don't have to flip through to look something up.
Deckible also has a section where you can journal your thoughts, track your journey day-by-day, and meditate on the cards.
Deckible values community and is a great platform to connect with other like-minded individuals and meet other deck creators. There's also a sharing feature allows you to share cards with friends directly through the app.
From a creator standpoint, Deckible offers an easy way to turn your oracle cards into a digital deck with no upfront costs. The app offers different card shapes and sizes and also allows you to completely customize the back designs for each of your cards.
There's also an option to include a link for app users to purchase your physical card deck.
In terms of marketing, it's a great way to have a platform do all the legwork of selling for you, and you get paid directly by them. (You'll receive 50% royalties on each sale.)
A while back, I co-hosted a webinar with Nick Kellet, the founder of the platform, in which he demonstrated all of Deckible's unique features.
If you're curious to learn more, you can watch the replay here:
Are you currently working on an oracle card deck that you'd love to publish in a digital format? Which of the above options feels like the best choice for you?
We'd love to hear from you in the comments below!
Want More Support to Make Your Dream of Your Oracle Card Deck a Reality?
Check out our step-by-step self-study course, or learn more about our done-for-you publishing services!